Camping by the sea in Finistère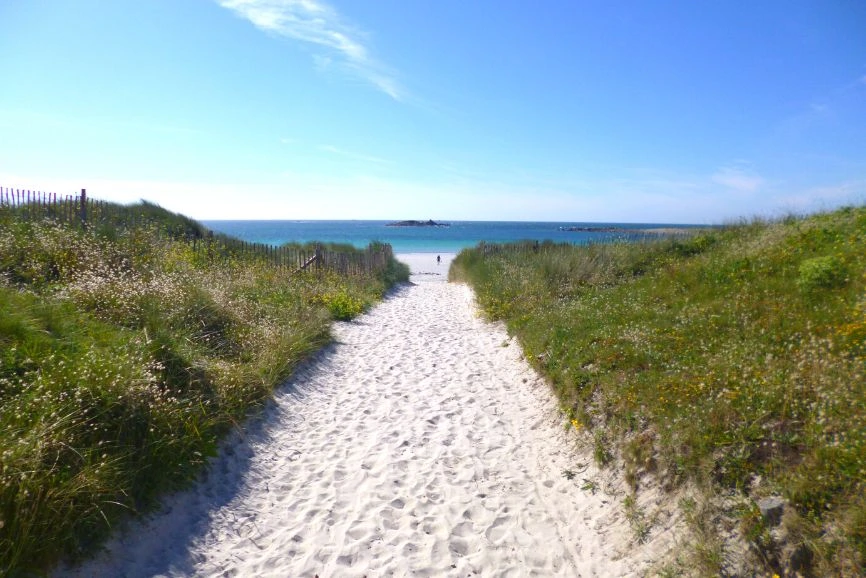 Your rental property near the beach in Plouguerneau
Camping du Vougot is a small family campsite with 75 pitches near the Vougot beach. Whether you rent a mobile home, atypical accommodation or a pitch for traditional camping, you can enjoy the delights of swimming in the sea at any time, in an iodised air, lulled by the sound of the waves.
Camping at 250 m. of the sea
The Vougot beach can be reached on foot from the campsite in just 5 minutes. Here, the water takes on a colour that has nothing to envy the Caribbean beaches. It is extraordinarily clear and its excellent quality (health checks are posted on the beach access) guarantees you a most pleasant and invigorating swim.

Enjoy the activities offered by the beaches of Brittany
With a length of more than 1 km, the Vougot beach offers a lot of entertainment possibilities. The first, lounging at a distance from one's towel neighbours, but also all the beach games that require space: here there is no problem of encroachment on the others.
The Vougot beach also has its water sports enthusiasts: kite surfing and coastal sailing mainly, but also supervised activities such as surfing, windsurfing, paddle and optimist.
Finally, for nature lovers, you can fish from the shore, hike on the foreshore or enjoy a horse ride to discover this place in a different way.
But there is more to the beach than just swimming: sitting on the sand in the evening is enough to admire the sunset and try, like the many amateur photographers, to bring back the unforgettable holiday snapshot with the lighthouse of the virgin island in the background.
And why not have some fun at the Vougot beach?
Every Friday evening in July and August, you can enjoy concert evenings at the SNSM station as well as some neighbourhood parties.
Discover our activities, our pool and our services!