Holidays by the sea in Finistère
Spend your holidays with your feet in the water by staying at Camping du Vougot***, a campsite with 75 pitches located in Plouguerneau in North Finistère Brittany between Brest and Roscoff. The campsite is located 250 m from the beautiful Vougot beach and the GR 34 coastal path. In the heart of the preserved Natura 2000 site of Guissény, the Camping du Vougot benefits from an exceptional natural setting, between fine sandy beach, turquoise water, jagged cliffs and abers.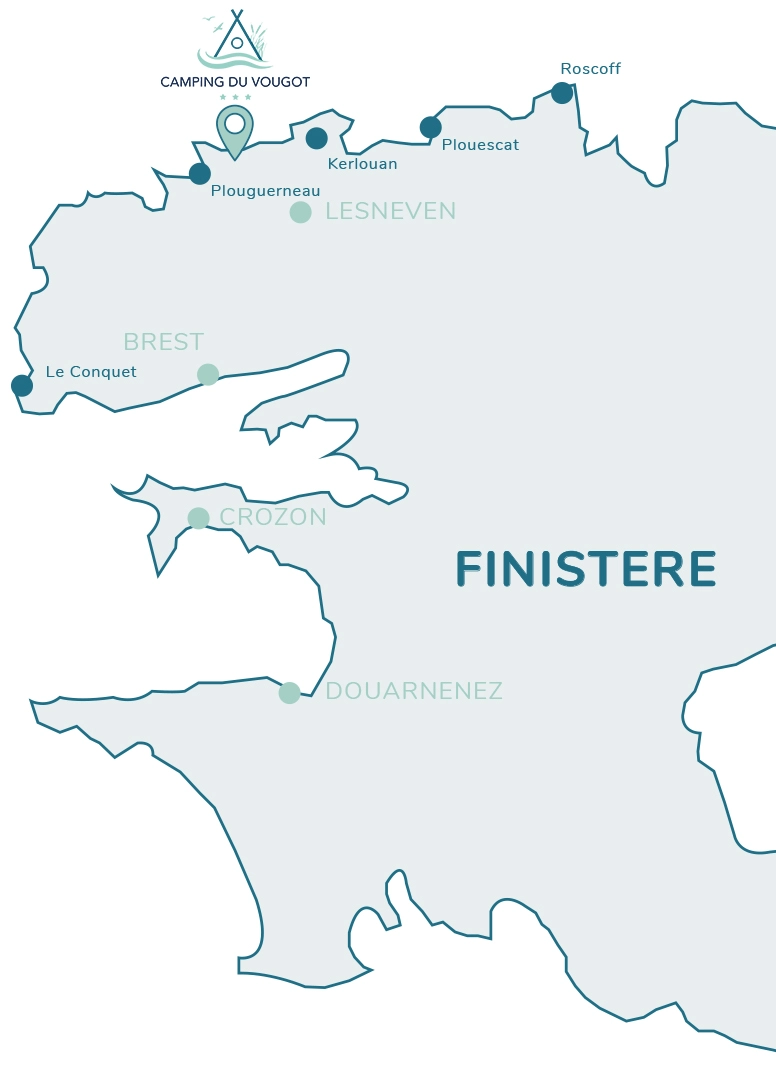 Opening of the campsite
28 April to 23 September 2023
Campsite on a human scale in
seaside
After spending more than 20 years behind a desk, we wanted a change of scenery and a change of life! We have always loved camping and have travelled all over France and abroad with our caravan (we still have it!).
So it was in 2020 that we left our native Morbihan to settle in North Finistère, in this magnificent green area with our children. This quiet, family-run campsite, on a human scale, totally seduced us. A new adventure begins here, with you…
Maximum comfort for your stay
We welcome you in a family and friendly atmosphere in the heart of a flowery setting, bordered by the Iroise Sea. The spacious plots, delimited by hedges, offer you private spaces sheltered from the wind. The comfort, activities and services of our 3-star campsite allow you to spend a peaceful stay in North Finistère Brittany, in an ecologically committed campsite.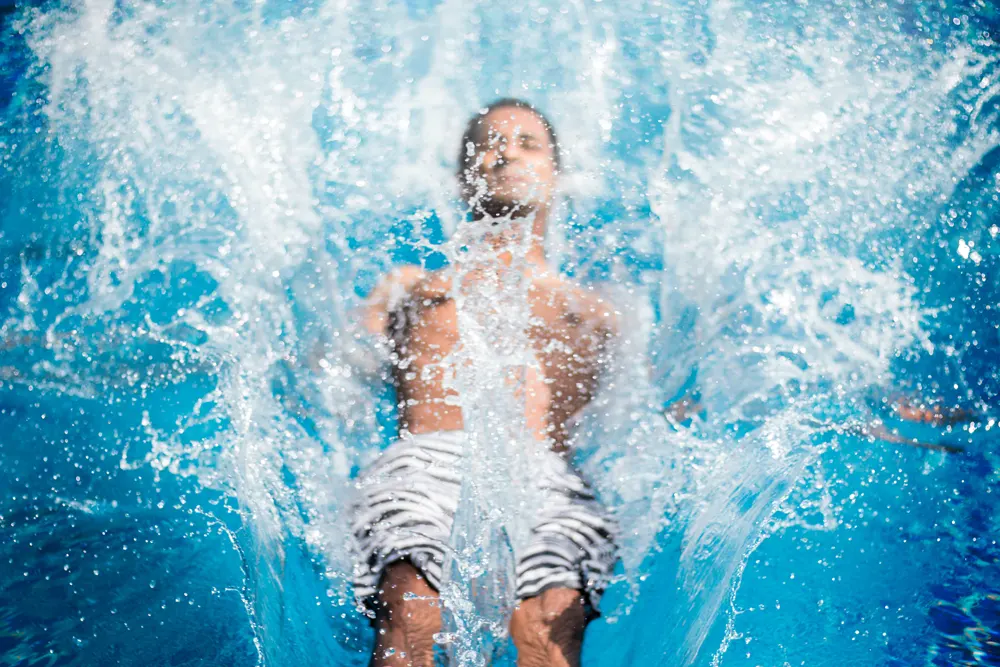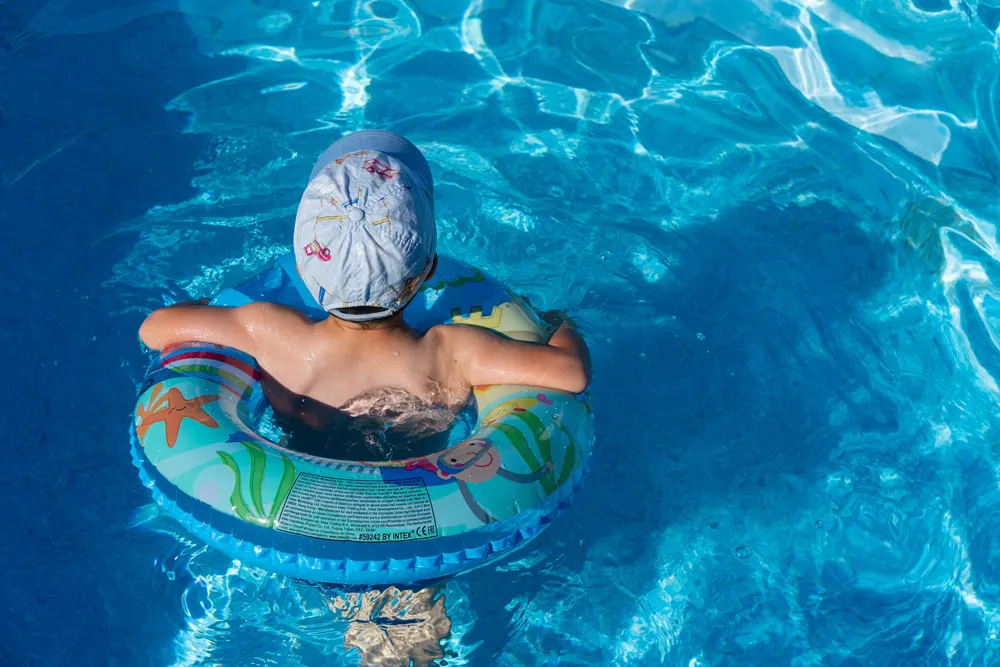 Campsite with heated pool in Finistère
To relax, have fun or do a few laps, you can enjoy our covered and heated swimming pool, from April to September, essential for your holidays in Finistère.
The aquatic area, which is accessible to people with reduced mobility (PRM), includes a 1.30 m deep pool, a paddling pool and a balneotherapy area. Comfortable armchairs, suitable for reading or napping, are placed around the pool.
Read more
Camping on the beach in Finistère
In addition to our swimming pool, you can swim in the turquoise waters of the Vougot beach, 250 m from the Vougot campsite, and lie down on this large stretch of white sand more than a kilometre long.
The beauty of the beaches of North Finistère, with their translucent waters dotted with mysterious boulders, is still unknown: go and discover the other beaches close to the Vougot campsite, from Le Conquet to the Bay of Morlaix, passing through Portsall, Saint Pabu, Brignogan and many others…
Read more
Our accommodation for an unusual stay
In order to satisfy as many people as possible, we offer atypical accommodation, mobile homes for rent from Saturday to Saturday, but also from Wednesday to Wednesday and from Sunday to Sunday. Avoid the weekend traffic jams and the Saturday rush! In low season, rent for a minimum of 2 nights (3 nights for special weekends) regardless of the day of arrival. We can offer you to rent shady or sunny pitches, at the best price.
Pets are accepted at the current rate. We will ask you to show us your up-to-date vaccination certificate. Category 1 and 2 dogs are not allowed on the campsite.
The tariffs
Discover Finistère and the Natura 2000 site
The location of our campsite in North Finistère in Brittany near Lannilis, between land and sea, offers many leisure activities. Relaxing on the beach, swimming, sailing, fishing, hiking or cycling, there is no lack of activities. You can also discover the Pays des Abers, the Côte des Légendes, the Ile d'Ouessant, Natura 2000 and the Ile de Batz. Breathtaking panoramas await you!
Discover our FAQ
Arrival and departure times :

Rentals: arrivals from 15:00 to 19:30 and departures from 8:00 to 10:00.
Pitches: arrivals from 14:00 to 19:30 and departures from 8:00 to 12:00.
Are pets allowed?

Our animal friends are accepted, with the exception of category 1 and 2 dogs. The vaccination booklet must be up to date. For the well-being of all holidaymakers, animals must be kept on a lead and their faeces collected.
Opening of the pool

The swimming pool is open from April to September, from 10 am to 7 pm. Shorts and T-shirts are not allowed for swimming.
Is the pool heated?

Yes, the pool is heated to 28° and is covered.
Where to eat?

The campsite offers take-away food in the evening in all seasons (pizzas, fish & chips, croque-monsieur), food-truck in high season.
If you have a car, you can also choose one of the many restaurants in the area.
Are there any animations?

We believe in peace and quiet at the campsite. However, we do offer some entertainment in high season (aperitif concert at the bar, storytelling evenings). Many festive events are organised in the area to allow you to have fun and discover the Breton culture (fest noz, maritime festivals, etc.).
Do you accept holiday vouchers?

Yes, we accept paper or dematerialised ANCV.
How far is the beach?

The Vougot beach, with its fine sand, is 250 m from the campsite entrance.
Are barbecues allowed?

Charcoal and gas barbecues or plancha are allowed. Collective barbecues are available. Individual barbecues are allowed on the pitches.
Electric appliances (barbecue, plancha) are not allowed.
These provisions may change during the season depending on weather conditions or prefectural decrees.
Is there wifi on the campsite?

Wifi is available on about 80% of the campsite free of charge.
Can electric cars be charged?

Charging of electric vehicles is not allowed on the campsite. Charging stations are available in Plouguerneau and Guisseny.
Can we invite outsiders?

Visitors are subject to authorisation by the management and must pay an entrance fee. They cannot access the aquatic area and must leave the campsite before 22:00.
When do I have to pay for my stay?

For rentals, a deposit of 30% is due on booking and the balance 30 days before arrival.
For pitches, a deposit of 50 € is due on booking. The full amount of the stay must be paid on arrival.
Are minors allowed?

Minors must be accompanied by their parents or legal guardians throughout their stay.
What do our customers think?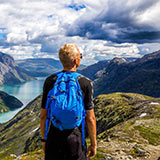 Gregory M.
A very pleasant campsite.
Close to a beautiful beach, a covered swimming pool, friendly owners, clean sanitary facilities, in short, for a family weekend in the off season in good weather, it's the best! The little extra with quality bread and pastries in the morning on reservation the day before at the reception and takeaway food in the evening.
We'll be back for sure!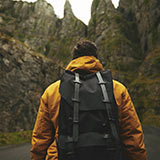 Youenn F.
A quiet family campsite close to the beach. The site is very well kept and functional (pitches, sanitary facilities, swimming pool).
Some pitches are very shady.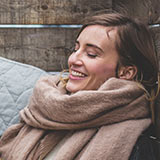 Aline V.
Well situated campsite with a lovely beach 500 metres away. The sanitary facilities are clean and the pitches are spacious.